Paint Booth Filters and Prep Station Filters
Your online source to buy Paint Booth Filters and Prep Station Filters
Find what you need at the LOWEST PRICES



Information
We Accept ...





Stop Wasting Space! Separate & Maximize Your Useable Space with Goff's Curtain Walls.
Choose the auto body curtain system that is preferred by prep-station & spray booth manufacturers worldwide! Goff's Curtain Walls create work stalls that help control paint, grinding sparks, aluminum and steel dust, water and chemicals.
Curtains are ideal for prep stations, wash down areas, and finishing stalls. Adding Goff's Curtain Walls helps create a safer, cleaner work environment, improve facility appearance, and reduce heat and cold loss.
Call us today to discuss your needs. We can design the perfect solution to fit into your budget.
U.L. Classified Flame Retardant Curtains
Sizes and Colors Available to Fit Your Shop
Optional Track and Standard Hardware
Custom Designs
Call Larry at (309)453-2561

Larry@absairfilter.com
Benefits of Goff's Curtain Walls Include:
A safer work environment
Increased productivity and improved working conditions
Confinement of contaminants
Protection from sparks and hazardous debris
Improved facility appearance
Fast Delivery

Features Include:
Curtains meet NFPA 701 & California State Fire Marshal Standards
Double Lock Stitching with mildew/rot resistant thread
Finished Edges with 2" Industrial Strength Velcro for attaching to adjacent curtains
Fully enclosed, sewn in, galvanized chain in the bottom hem for motion reduction
Resistant to most chemicals
Easy to install, clean and replace
Eliminates costly brick and mortar permanent type walls
14 oz. vinyl coated polyester fabric with 20 mil. clear PVC window section

Goff's Curtain Walls are Custom Made for each Application.
Curtains can be made in any length up to 100' high and in any layout.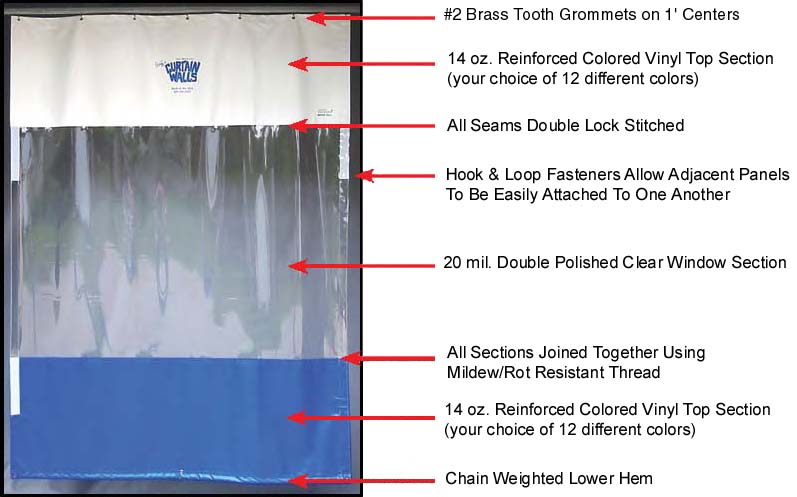 Available in the following colors:

Call Larry at (309)453-2561

Larry@absairfilter.com
There are no items in your cart